UCYFL: September 2nd, 2014 Meeting Minutes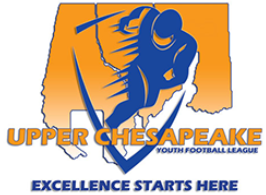 Upper Chesapeake Youth Football League
Sept 2nd, 2014
Meeting Minutes

Call to Order @ 8:10pm 

Programs in Attendance: Aberdeen, Bel Air, Cockeysville, Conowingo, Edgewood, Emmorton, Fallston, Havre De Grace, Jarrettsville, Joppatowne, LTRC, North Harford, Perry Hall, and Towson (13 out of 17 total)

Executive Board Members in Attendance: Greg Beaty (President), Vince Hagley (VP Rules), Ian Mitchell (VP Scheduling), Tina Preston (Treasurer), Matt McMichael (Blue Div. Commish), Jeff Gresock (Gold Div. Commish), and Tom Coard (White Div. Commish)
President's Report:
Conversations about trophies to be had in upcoming meetings for Championship games; any/all proposals from vendors to be presented at future meetings and left to a vote.
Both Ref and League fees addressed for those who still owe them; communications to be emailed out with outstanding balances.
VP of Rules Report:
Conversation about team rosters.
During the first week of regular season, many issues arised with player's pictures on the rosters, either not clear or left completely blank. Any/all picture issues need to be resolved by September 3rd prior to rosters being locked out. If updates need to be done, email Bob Elliott directly ASAP.
Just as a reminder, even for those age groups that are unlimited weight (12U & 14U), rosters/players still need to be verified correct and equipment checks need to occur prior to the start of the game; same procedure as though they were being weighed in. If a player is not present during the initial verification process, they cannot play in the first half of the game and are to get verified at half time by the opposing coaching staff.
Prior to the meeting, two issues came up, one stemming from an event during a preseason scrimmage and another during a week #1 game; to be discussed after the meeting with Greg (President) and Matt (Blue Div. Commish).  Both matters have been resolved and no action was taken against any coach within the league.
VP of Scheduling Report: 
Issues with online schedule, regarding incorrect dates and/or times were discussed. All programs were asked to verify each and every team schedule and make sure the information was correct as far as dates, times and locations.
If there was a conflict, it was made clear that it was the responsibility of the programs to make and agree upon alternate arrangements; any/all changes were then to be emailed to VP of Scheduling at -email-.

Blue Division Report:
Two issues were brought to the league's Exec. Board and are to be reviewed/addressed after the meeting. Both issues were resolved and no action was taken.

White Division Report:
An issue/conflict was brought to the league's attention regarding the Jewish holiday of Yom Kippur and games being played during the holiday's observation period. The parent asked/suggested that all games during the holiday (October 3rd to 4th) being moved to another date/rescheduled, as early as that Sunday (5th). The league's stance on this was any and all players/families have the right/choice to not play for any reason but the original schedule was going to stay the same and not change.

Old/New Business:
Discussions about Championship bids to take place ASAP. All applicants are to bring in and present official bids, typed and on letterhead to the league during the next meeting. All applications will be reviewed and voted on during the October meeting.

Meeting Adjourned @ 9:00pm