UCYFL : October 2014 Meeting Minutes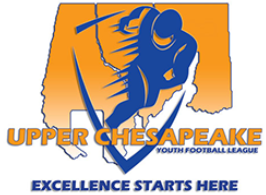 Upper Chesapeake Youth Football League
Oct 2nd, 2014
Meeting Minutes

Call to Order @ 8:02pm
Programs in Attendance: Aberdeen, Bel Air, Cecil County, Cockeysville, Conowingo, Emmorton, Fallston, Havre De Grace, Jarrettsville, Joppatowne, LTRC, and Perry Hall (12 out of 17 total)
Executive Board Members in Attendance: Greg Beaty (President), Vince Hagley (VP Rules), Ian Mitchell (VP Scheduling), Tina Preston (Treasurer), Matt McMichael (Blue Div. Commish), Jeff Gresock (Gold Div. Commish), and Tom Coard (White Div. Commish)
Also in attendance, Mike Sulewski (Head Official)
Motion to accept Meeting Minutes from August and September – PASSED
Meeting opened with concerns from parents of Jarrettsville 7U regarding game against Joppatowne on 9/12/14. Concerns were only voiced to inform the entire league of the issues they have had over the last 2 seasons with this Joppatowne team; no actions against Joppatowne were expected by Jarrettsville parents.
Concerns about the overall actions and behavior from both players and coaches from Joppatowne's 7U clinic team; stated that both lacked respect for those on the Jarrettsville team for the 2nd year in a row (2013 & 14).
Players were being verbally and physically abused each play with late and unnecessary hits while Jarrettsville Coaches and Sideline Staff were being cursed at by Joppatowne Coaches. These actions resulted in Jarrettsville calling the game early and walking off the field for the safety of the players.
President's Report:
Bids for Championship hosting to be submitted no later than Friday, October 10th
Voting on all bids by Executive Board to be completed by Monday, October 13th and announced to the league. Results for Championship hosting are as follows:
Blue Division – Bel Air (to be played at either Tucker Field or Bel Air High School; TBD)
Gold Division – Aberdeen (to be played at Aberdeen High School)
White Division – Fallston (to be played at Fallston Rec Complex)
VP of Scheduling Report:
Reminder to all programs about schedule conflicts and the process that is in place to make changes.
If there is a conflict, it was made clear that it was the responsibility of the respective programs to make and agree upon alternate arrangements that includes the availability of field space and Officials; any/all changes were then to be emailed to VP of Scheduling at -email-.

Also, be prepared for in climate weather, especially for those programs that play on either grass field or public school-maintained fields; have a backup plan ahead of time if the weather forecast is expecting bad weather.
Proposal for Playoff seeding and weekly breakdown – PASSED
o For the Blue and Gold Divisions, the Top 6 teams will go on to the playoffs
Week 1: #1 and #2 seeds get a BYE while #3 hosts #6 and #4 hosts #5

Week 2: #1 hosts the winner of #4 vs. #5 and #2 hosts the winner of #3 vs. #6
Week 3: Championship
For the White Division, the number of teams moving on to the playoffs will vary as each age group differs with number of teams; numbers will be determined at the end of the regular season.

For 8U, due to large number of teams in the Gold Division, the Bottom 4 teams will act as and play for the White Division Championship
Treasurer's Report:

All programs are up to date with league fees

Reminder to everyone that Ref/Official fees are not sent to the League/Exec Board, rather, directly to the Officials; receipts can be given upon request.
VP of Rules Report:
Discussion on 4 different incidences and investigations that occurred recently that resulted in suspensions of both players and coaches; all cases have been resolved and closed.
Specifics of each incident and investigation can be obtained from VP of Rules for those interested.
Reminder to the entire league, make sure that all coaches have at least 3 copies of their roster present for every game and that the verification/weigh-in process occurs each week/game no matter what.
Even for those age groups who don't require weigh-ins (12U and 14U), the normal roster verification and pad check still needs to take place prior to the start of every game.
Due to an unplayed game in the 14U Gold Division (Aberdeen vs. Jarrettsville), the playoff seeding will be based on the win percentage of each team rather than overall win/loss totals; the game was unable to be made up due to time and field space availability.
Blue Division Report:
Nothing new to report at this time.
Gold Division Report:
Nothing new to report at this time.
White Division Report:
Nothing new to report at this time.
Old/New Business:
Vote on whether the Communications Director should be required to attend every scheduled league meeting; Bob Elliott requested to be exempt from the meetings and stick to only maintaining the website and sending out all necessary communications amongst the league – PASSED

The 4-County "All Pro" Championship scheduled for November 22nd and December 6th and 7th.
All programs are strongly encouraged to have any Division Championship team participate in this event; for those teams who turn the offer down, the runner up to that age group and division is asked to fill that spot.
Reminder to the entire league, make sure scores are logged and recorded on the league website each week.
Meeting Adjourned
@ 9:00pm