UCYFL: November 2014 Meeting Minutes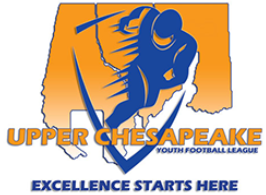 Upper Chesapeake Youth Football League
Oct 2nd, 2014
Meeting Minutes
Call to Order @ 8:02pm   
 
Programs in Attendance:  Aberdeen, Bel Air, Cockeysville, Conowingo, Edgewood, Fallston, Havre De Grace, Jarrettsville, Joppatowne, LTRC, and Perry Hall (11 out of 17 total)  

Executive Board Members in Attendance:  Greg Beaty (President), Vince Hagley (VP Rules), Ian Mitchell (VP Scheduling), Tina Preston (Treasurer), and Matt McMichael (Blue Div. Commish  

Also in attendance, Mike Sulewski (Head Official)  

Motion to accept Meeting Minutes from October –

Deferred to next month; not enough people reviewed/received the minutes to vote.  

Meeting opened with members of the Edgemere/Sparrows Point Falcons football program (T.Algatt, J.Algatt, C.McKemy, and C.Megenhardt) and how their 2014 season went with GMYFL.  Several concerns were raised by ESP about the future of their program

IF

they were to stay in their current league after the season they had; with many issues across the board, from lack of communication from league officials, unannounced rule changes to last minute scheduling changes, they fear their registration turnout will be even less in 2015, causing them to not field a team at several age groups.


With that being said, they have officially petitioned to be join the UCYFL in 2015 and submitted a written request to the League Executive Board and Board of Governors.  (Any/all decisions to add them to the league will take place at a later time, early in 2015)  



President's Report

:  Championship will start within the next two weeks, the first being the White Division (@ Fallston)  


Changes to White Division schedule-date reviewed, discussed, and reasons explained at length

Blue Division still tentative to be played at either Bel Air High School or Tucker Field; to be determined soon and the league made aware ASAP  

Trophies have been ordered and should be ready to be shipped out in the coming days

VP of Scheduling Report: 

Reminder to all programs to get scores in after each game as soon as possible as to not delay any schedules

White Division schedule has been posted to league site with the first game starting at 9am and every 2 hours thereafter.

Blue and Gold Division 2nd week schedules also have been posted to the league site

Championship games to start as follows:
Blue Division – first game to start at 9am

Gold Division – first game to start at 10am
Discussion about divisional structure for 2015 brought up and briefly discussed as to the program selection process for each division in 2014
Deferred all conversations for later months in early 2015    



Treasurer's Report

:       

All programs are up to date with league fees ·        

$8600 in league account and still waiting for receipt for Championship trophies



VP of Rules Report

:  Nothing new to report at this time. 



Blue Division Report

:  Nothing new to report at this time. 
 
Gold Division Report:  Nothing new to report at this time.
 
White Division Report:  Nothing new to report at this time. 



Old/New Business

: ·        

Eastern Christian Academy is attempting to put together an all-star travel team(s); mainly looking for 7th and 8th graders to start with.
Meeting tomorrow, 11/5/14, to discuss this proposal ·        
The 4-County "All Pro" Championship scheduled for November 22nd and December 6th and 7th.   
All programs are strongly encouraged to have any Division Championship team participate in this event; for those teams who turn the offer down, the runner up to that age group and division is asked to fill that spot.       
Proposal to have 3 officials for every Championship game at all age groups and divisions – PASSED/AGREED

Briefly discussed the large number of forfeits that occurred during the 2014 season and potentially increasing/creating stiffer punishments for those coaches, and/or programs when forfeits occur without ample notice and reason.        

Brief discussion on coming months and what the meeting will be including; start reviewing/looking over rule changes, additions and/or subtractions
Any/all should be brought to the meeting and submitted the league in writing; to be reviewed and tabled until the following month where it would be voted on for approval.  
Meeting Adjourned @ 9:00pm