UCYFL: January 2015 Meeting Minutes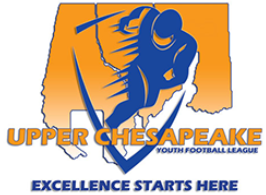 Upper Chesapeake

 Youth


Football League

Jan 13th, 2015
Meeting Minutes
January 13, 2015 
Call to order 7:05pm 
Programs in Attendance:
Bel Air, Aberdeen, Fallston, Jarrettsville, Conowingo, Hereford, Joppatowne, Cecil County, Edgmere, Edgewood, Stembridge   
Executive Board Members in Attendance:
Vince Hagley (VP Rules), Ian Mitchell (VP Scheduling), Tina Preston (Treasurer)   
Meeting opened with Grassroots Youth Football League addressing the UCYFL Legacy Rule that any child who participates in the UCYFL is not permitted to play for any other league during the On-Season. Grassroots asked that there be a consideration to make an exception to this rule. There was much discussion as to why this rule is in place. It was stated that any rule changes must be proposed by an organization in order for it to be considered.   
Rising Sun has petitioned to join the UCYFL for the 2015 season and submitted a request to the League Executive Board and the Board of Governors. They have stated that they are able to fill the core 6 teams. Any/All decisions to add them to the league will take place later this month. 
Open Board positions were discussed and nominations made for Treasurer and Secretary. No nominees for President as of yet. Nominees are to be voted on at the February meeting. 
How to resolve clinic issues was addressed. Several ideas were brought to the table. Such as, Rotation play in effort to take the competitive play out, or have an official on the field. If anyone has any other ideas as to how to rectify these issues, please bring them to the February meeting. 
Aberdeen presented a written proposal to the Executive Board and the Board of Governors, for a rule change to make 11U unlimited weight. This will be voted on at the next meeting. 
The possibility of having the Officials fees for championships being picked up by the league was discussed. Will be addressed more in future meetings. 
President's Report:
Due to work scheduling Greg is stepping down as President. Please have any nominees contact VP of Rules ASAP.   
Win Percentages: 
Aberdeen – 722 
Bel Air – 815 
Cecil County – 631 
Edgewood – 386 
Emmorton – 630 
Fallston – 565 
Havre De Grace – 594 
Perry Hall – 551 
Stembridge – 466 
Conowingo - .05 
Jarrettsville – 462 
Hereford – 460 
LTRC – 302 
Cockeysville – 633 
Joppatowne – 170 
Towson – 560 
North Harford – 477  
Blue/ Gold / White Division placements discussed.   
Treasurers Report:
$490.00 in league account Trophy issue being addressed. League Fees discussed. As well as the need for a written budget to be in place.   
VP of Rules Report
:  All rule change proposals must be submitted in writing by a program. And will be voted on in the following month.
Blue Division Report
:  Nothing new to report at this time.  

Gold Division Report
:  Nothing new to report at this time. 

White Division Report
:  Nothing new to report at this time. 
Motion to dismiss – Brenda Second by Tina Preston 
Meeting adjourned 8:10pm   
Next Meeting 2/3/15